the charm of cherry
why are cherries so charming...
berries get a lot of love, but there's another fruit that deserves equal attention: tart cherries. despite their sour taste, tart cherries offer some seriously sweet health benefits, thanks to all the good-for-you nutrients packed inside their juicy red shells.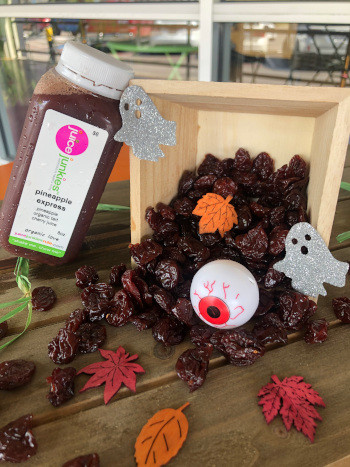 science-based health benefits of tart cherry juice
pain relief:  ongoing research shows that tart cherries are a rich source of antioxidants, including melatonin, which may help to relieve the pain of arthritis, gout, and possibly fibromyalgia. to date, no other fruit or vegetable has been found to have the pain relieving properties of tart cherries.
promotes better sleep: if you're having trouble sleeping at night, eating a handful of tart cherries or a few ounces of tart cherry juice can help. researchers from louisiana state university found that participants who drank tart cherry juice twice a day for two weeks were able to sleep almost 90 minutes longer than the placebo group.
helps post-workout recovery: tart cherries may help post-exercise recovery. they are naturally high in potassium, which conducts electrical impulses throughout the body. this mineral also helps maintain blood pressure, hydration, muscle recovery, nerve impulses, digestion, heart rate, and pH balance.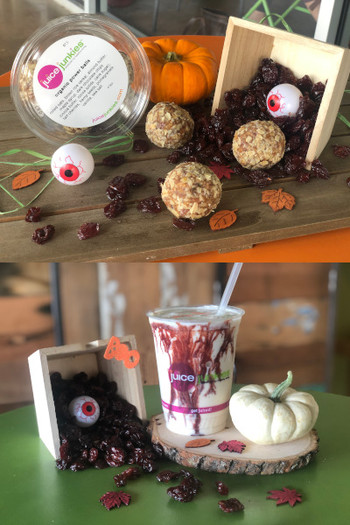 you can find tart cherries on our menu! :)
at juice junkies we offer a variety of product with tart cherries and tart cherry juice.
you can find them in our:
pocket rockets ~ dream on and pineapple express, power balls & in our october smoothie… the return of the killer rabbit
inside you'll find: tart cherry juice, banana, house made almond milk, coconut water, vanilla, raw organic cane sugar.
this delicious blend of goodness tastes like rich vanilla ice-cream with cherries on top… perfect combination of healthy and delicious!
check our full smoothie menu