can organic coffee be a superfood?
YES!!!
high in antioxidants, vitamins and minerals, organic coffee boosts the immune system and helps guard against disease. this is great news! but… it is very important to make sure your coffee is organic, shade grown and certified fair trade to reap the true benefits from this very special little bean. here's why:
#1 organic coffee is free of pesticides and artificial fertilizers. organic is not only good for you, it helps keep the soil vibrant and refurbished.
#2 shade grown coffee benefits from the canopy of tropical trees. this slows down the maturation period of the beans resulting in increased levels of natural sugars that enhance the flavor of the beans. most big brand coffees are grown in the sun where the trees have been cleared. this makes the coffee beans grow much faster but unfortunately depletes the soil that now has to be replenished using synthetic fertilizers.
#3 fair trade certified coffee directly supports a better life for farming families in the developing world through fair prices, community development and environmental stewardship.
juice junkies is happy to support grounds for change, a small family roaster who offers 100% fair trade, organic coffee roasted in small batches to ensure that you receive the freshest coffee possible.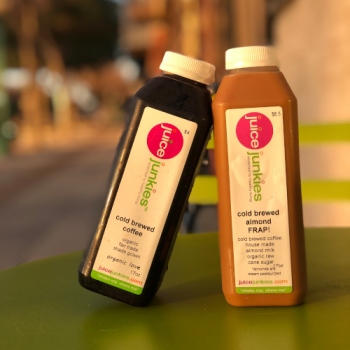 we offer organic, shade grown coffee in many, many ways for your enjoyment and good health:
✯ cold-brewed coffee
✯ cold-brewed almond milk fraps
✯ hot coffee and café au lait
✯ strange brew coffee smoothie (we can add cold brewed coffee to any smoothie).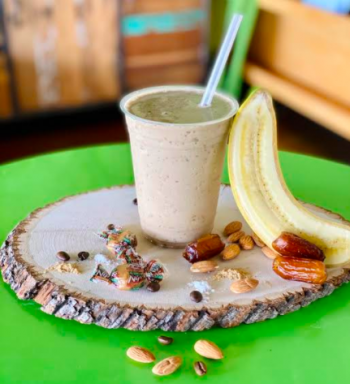 smoothie of the month:
the salted carmel is been sooo popular it's receiving another month of glory. coffee, almond milk, banana and sweet date inspired greatness! come enjoy one!
health and peace!!!